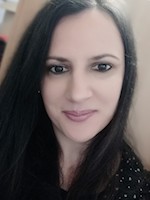 Dr. Jerneja Pavlin is an Assistant Professor of Physics Education at University of Ljubljana, Faculty of Education, Slovenia.
She is a lecturer of subjects Physics in natural sciences, Natural science visits, The didactics of natural sciences, The physics of matter with didactics, Didactic games in natural sciences, Fundamentals of natural sciences, etc.
Her research focuses on the investigation of different approaches to physics and science teaching (e.g. outdoor teaching and learning, using 3D sub-microscopic representations, didactic games, peer instruction etc.), aspects of scientific literacy and the introduction of contemporary science into physics teaching, from the development and optimization of experiments in the field of modern materials to the evaluation of the developed of learning modules, etc.
She was involved in several national and international research projects in the field of science education. She is a faculty coordinator for scientific literacy in a national project NA-MA POTI and a national coordinator for Erasmus+ KA201 project AR Physics made for students (ARphymedes).
She is a member of GIREP (International Research Group on Physics Teaching) and ESERA (European Science Education Research Association). In total she has published about 150 different publications. Dr. Pavlin is a member of the editorial board of journal for Slovene teachers Naravoslovna solnica and of international journal Center for Educational Policy Studies Journa (CEPS)l.